1TB LaCie Rugged (Thunderbolt) USB 3.0 External Mobile Drive (OEM Packaged/Not Retail)
Earn 26 points/R26
(Each R100 spent = 1 point, 1 point = R1 discount)
Your cart will total 26 points that can be converted into a voucher of R26.
Thunderbolt speeds of up to 387 MB/s
USB 3.0 for universal connectivity
Bus powered for complete mobility
Shock, dust, and water resistant for all-terrain use
FREE DELIVERY
IN STOCK at EXTERNAL supplier.
If ordered before 10AM:
DELIVERED next business day (main centres)
or 3-5 business days (regional areas or large items)
COLLECTION from GeeWiz available Same Day (approx 4:30pm)
FEATURES
With the new LaCie Rugged, even if you go off-road, your project stays on time. With IP 54-rated resistance to the elements and blinding-fast speeds through Thunderbolt and USB 3.0, you don't have to compromise between durability, mobility, and speed.

No-Compromise Speed
Move data more than five times faster than with FireWire 800.

Universal Connectivity
Dependably connect to any standard computer, anywhere.

All-Terrain Data Protection
Keep data safe with physical and software security.

User-Friendly Software Suite Included
Encrypt data and set up automatic computer backups.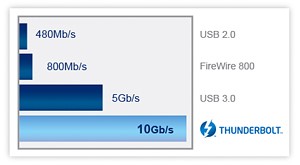 No-Compromise Speed
Get lightning-fast transfer speeds on Mac and PC thanks to the USB 3.0 and Thunderbolt interfaces. With the SSD version, the LaCie Rugged delivers up to 387MBps - one of the fastest bus-powered products available*. The hard disk version performs at up to 122 MBps, a 35% improvement over FireWire 800. Back up and transfer mountains of data in a fraction of the time. Enjoy noticeably more responsive photo library browsing.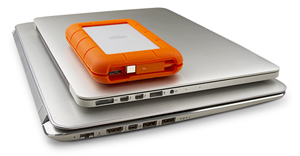 Universal Connectivity
Don't let your project get derailed by incompatibility between your external drive and your computer. With both USB 3.0 and Thunderbolt interfaces, the LaCie Rugged is a perfect match for your Mac and PC. Since USB 3.0 is backward compatible, you can connect it to any standard computer, anywhere. The integrated Thunderbolt cable also stows neatly when not in use, so that you'll never lose it. The LaCie Rugged is also fully bus powered through the USB 3.0 and Thunderbolt cables. Its portability and interfaces make it the must-have sidekick to a new Mac or Ultrabook™.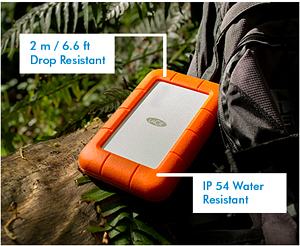 All-Terrain Data Protection
Your data is irreplaceable, so it's vital to protect it against any conceivable mishap wherever you go. That's why LaCie made the new Rugged tougher than ever. It's MIL-compliant, which means that data is protected even during accidental drops of up to 6.6 feet (two meters). During transit, connect the removable cover to provide IP 54-level protection against dust and water. Whether the LaCie Rugged takes a jarring bicycle ride or gets splashed by a mud puddle, you stay confident that your data is still accessible. The SSD version goes a step further for the ultimate in resilience against vibration and shock. Both versions are tough enough to be shipped for reliable delivery to clients or partners. Included software even protects your files from prying eyes with AES 256-bit encryption.
User-Friendly Software Suite Included

Automatic Backup
Easy setup and automatic backup for both Mac and PC.

Password Protection
With military-grade AES 256-bit encryption, LaCie Private-Public protects your files from unauthorized access with password protection.
PRODUCT SPECIFICATIONS
| | |
| --- | --- |
| Brand | LaCie |
| Item model number | LAC9000488 |
| Product Type | Hard Drive |
| Capacity | 1TB |
| Interface | USB 3.0 / Thunderbolt |
| Cache | 64MB |
| RPM | 5400 RPM |
Name :

Return policy

Description

Return of merchandise (RMA) and Warranty

We want you to be happy with the purchase you have made from us. If you are not completely satisfied, you may return the product to us and we will either refund, credit, repair/replace it, subject to the below terms and conditions. 

You can return purchases for a refund (excl shipping). Please notify us within 7 days and ensure item is ready maximum 10 days after delivery date.

Please ensure to log your return request within 7 days of receipt of your item. Please ensure to select the correct reason for return:

- Changed my mind / Item exchange

- Faulty on arrival

- Incorrect item received

All items are covered by a 12 month warranty (unless otherwise stated) which will be honoured directly by GeeWiz. All products will either be replaced/repaired/refunded depending on stock availability. Products will require evaluation by GeeWiz before a warranty claim can be accepted.

Should the item being returned for assessment be found to be in good working order, unfortunately, there will be a collection fee that will apply.

The collection fees are as follows:

- For returns on items that were sent with free shipping: R198

- For returns that had a surcharge, the same surcharge will apply for collection.

Please log your return on your account, under the returns manager.

We do not reimburse your fee to ship to us, but we will pay for return shipping if the item is subject to replacement. If the item you wish to return was ordered incorrectly / is no longer required / you have changed your mind, there is a collection fee that will be charged (please refer to the above) and this will be deducted from the refund amount once the supplier has credited us. Please note GeeWiz will only cover return shipping of a faulty unit within 6 months of purchase, after which, a shipping fee (starting from R198) will be applicable to you for the return of the unit.

Any disputes relating to ordered items being short/incorrectly shipped will only be entertained if reported to GeeWiz within 3 days of delivery/collection.

Refunds are subject to inspection of item(s) - in some cases, items will need to be sent to supplier for evaluation and testing. This can take up to 15 working days. Once a refund has been approved, this may take 3 - 5 business days to be processed.

ALL returns are subject to a 15% restocking fee if item is no longer in BRAND NEW condition or if item seal/packaging has been broken.

Please re-package safely and include all original product packaging.  

All software products are unfortunately not eligible for credit or refund once purchased.

After the 6-month period, you will no longer be eligible and won't be able to receive a refund. We can however replace or repair depending on the outcome after our team of professionals has inspected the product.

Should a warranty sticker not be present on an item, the warranty is immediately null and void.

Batteries are covered under warranty, but please note that GEL, AGM and LEAD ACID have limited cycle runs. These are typically around 200 cycles and may run out before the end of the warranty. Once the cycles have been depleted, it means the battery has reached the end of life and will no longer be a warranty claim.

GeeWiz reserves the right to refuse a refund if the item is damaged from misuse, items are missing, or if the product is altered in any way. 

GeeWiz or its affiliates are not responsible for damage or loss of any kind that may occur as a result of using or misusing any product purchased from us.

The warranty will no longer be valid, and GeeWiz will not be responsible for damage or injury of any kind resulting from:

Electricity fluctuations and surges, lightning strikes, faults in the building wiring, faulty installations, and improper use of controls
Failure to use the product in accordance with the operating instructions and or general misuse and or abuse
Damage caused by a superior force (vis major) or if the product has been infested with insects or pests
If the product is physically damaged after it left the store
If water or liquid caused the damage to the product
If the warranty seal is tampered with
Any repair or tampering by an unauthorised person or attempt to repair or tamper with the equipment, or use of parts not supplied by authorised agents, or alterations or modification to the equipment shall render the warranty null and void.

Click here to get more details
If you have any further questions, please feel free to use the form below to ask:
Related products
(8 other products in the same category)